HANDS LABEL NIGHT mit WINTERKÄLTE / PROYECTO MIRAGE / MS GENTUR / MASCHINENKRIEGER KR52 VS. DISRAPTOR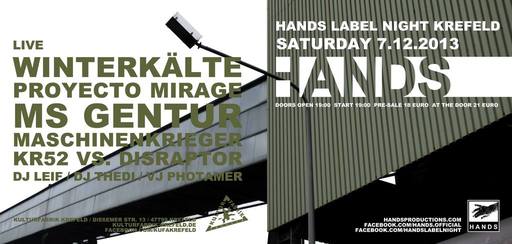 Veranstalter: Kulturfabrik Krefeld e.V.
The concept of HANDS LABEL NIGHT in KREFELD was born in 2012 and proved a well-received success, so we proudly present the sequel for 2013. Rather than a full-blown label-showcasing festival (you'll have to wait for FORMS OF HANDS for that, sorry) this is about a one-off party night with the dance floor crowd in mind.
The headlining live act will be label bedrock WINTERKÄLTE, who have carved a niche of their own successfully for almost two decades: Their self-proclaimed drum'n'noise sound has secured them a crossover profile and they're acknowledged as a leading, pioneering act in the rhythm noise scene. With their live drumming, WINTERKÄLTE exude pure energy on stage. PROYECTO MIRAGE present their new (and 7th) album "Steam Tech": Prompting rhythm noise with tough beats, often blessed with Alicia's electro-clash style vocals. On stage they are infamous for shifting it up a couple of gears even… HANDS evergreen MS GENTUR always guarantees for physical excitement with his crunchy rhythm noise sound, as well as MASCHINENKRIEGER KR52 VS. DISRAPTOR who debut the live presentation of their new album "roTen Years".
Additionally, HANDS provides a couple of in-house-DJs again, and that's two producers who have already earned their spurs spinning it: LEIF of Mono No Aware and Norm and THEDI of 13th Monkey and KiEw will keep the crowd going. Again the night is professionally accompanied by visual artist, VJ PHOTAMER, who has worked for Xabec and 16 Pad Noise Terrorist.
Bilder anzeigen